Locație: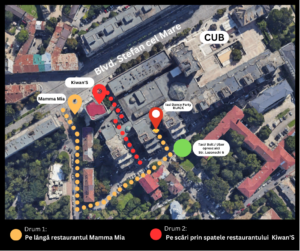 Descriere:
RO:
Dragilor, dacă v-a plăcut la noi până acum, vă așteptăm la o nouă petrecere Q Society. De data asta mergem underground. Vă așteaptă o atmosferă nouă, interesantă, queer.
Tema: ALL BLACK. Piele, tricouri negre, poate și o plasă dacă sunteți îndrăzneți.
Detalii:
Petrecerea începe la 22:00 și se termină la 04:00.
Localul este ultra central, la Strada Iordachi Lozonschi 6, între blocul C1 și C2. Vom avea voluntari la intrare și/sau un poster MARE. Vă rugăm să nu faceți zgomot afară.
Vom avea pază, ca de obicei, precum și un DJ și ambient fain.
Petrecerea este CASH ONLY. Vă rugăm să mergeți la unul din bancomatele din centru înainte de party.
Locurile sunt limitate, va fi coadă. First come first served. Vă sugerăm să veniți din timp la party. Ultima oară am oprit intrarea la ora 00:00. De la 02:00 devine mai liber.
EN:
We had fun so far right? It's time for a different kind of fun. We have a new queer party in town, and you're gonna love it. Underground, very central, very secret, good music and unforgettable atmosphere.
Theme: ALL BLACK. We dare you to dress accordingly.
Things you should know:
Party lasts from 22:00 till 04:00
Location: Strada Iordachi Lozonschi 6. Follow the people and volunteers at the entrance. There will be a BIG poster too. Please do not make noise outside.
This location accepts CASH ONLY. Please be prepared. There are numerous ATMs nearby.
There will always be security on the premises.
We'll have a DJ, as usual. And the sound system is crazy good.
The capacity is limited. There will be a queue. Make sure you arrive before 00:00 if you want to get in. From 02:00 things clear up.
—————————————————————–
Trebuie să ai peste 18 ani să participi la orice petrecere Q Society. Dacă pari mai tânăr/ă/x decât ești, te rugăm sa ai actul de identitate la tine.
You'll have to be over 18 years old to join our party. Always. If you appear too young you'll be checked at the entrance by security.
Event Details:
Strada Lozonschi nr.6 Iasi